On Tuesday Senior Counsel Ahmednassir under fire over 'pig from Central Kenya' remarks.
This is after putting out the metaphorical statement referencing to the Animal Farm.
In his Twitter post, the flamboyant lawyer pointed out inequalities during gazetting by President Uhuru Kenyatta based on the region one hailed from.
SEE ALSO: Start a Business That Can Earn You Big Profits!
"It took Uhuru a day to Gazette Macharia Njeru's election to the JSC. It took a court order and 9 months for Justice Mohamed Warsame to be appointed to the JSC.
"Kenya is an animal farm where the pig from central Kenya is superior to the camel from the Northern Frontier District (NFD)," he divulged.
He further referenced to Justice David Majanja who was elected to the JSC in February to represent judges and Magistrates and is yet to be gazetted.
He expounded, "In the Animal Farm called Kenya, the chicken from Western is inferior to the pig from Central Kenya."
A section of Kenyans online faulted Ahmednasir's remarks arguing that he was a beneficiary of the inequalities and favoritism in Kenya's society.
SEE ALSO: Doctors Issue Strike Notice
"You service the same "animal farm" for your daily bread. You are very much a solid part of the barn," one user opined.
Another stated, "Totally derogatory especially given the animal choice and its anathema to certain demographics. The case of the delay was a political one and you have chosen to tribalise it. Feeding on prejudice and spreading hate because your candidate lost is just banal."
"In this animal farm courts, the camel represents the pig from Central Kenya. Also in court, the pig's name changes to client and camel to Senior Counsel. So please avoid the tribal arguments," one Kenyan noted.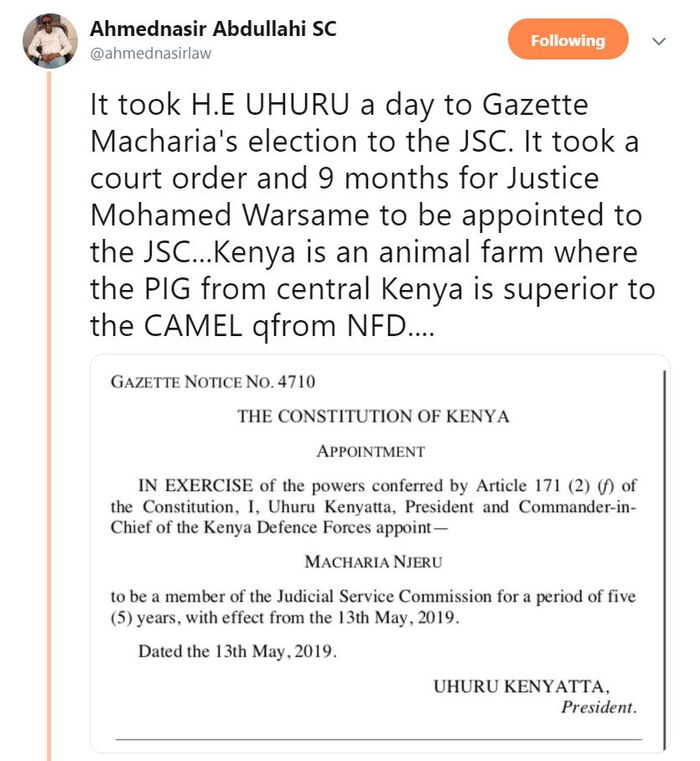 Here are some of the reactions: