Details of a Citizen TV exposé on bullying of students at the Nairobi School, Monday evening, has angered a section of Kenyans.
In the exposé, a 15-year-old student is reported to have been battered by prefects at the school, to a point where he is unable to talk, recognize his brother and has to use diapers when relieving himself.
SEE ALSO: Handling Adolescents
A report conducted by a consultant radiologist further states that the boy has fluid in his brain and is in need of urgent brain surgery.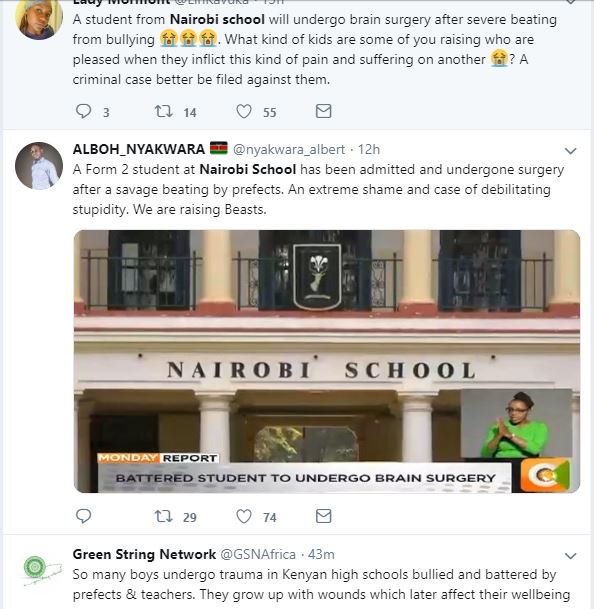 The school principal, however, denied that the student was bullied, narrating to the reporter that the teenager had been sent home for coughing.
The question in the back of many parents' minds is if their children are safe in schools.
Many took the conversation to social media platforms recounting on the days they were in school, while others were just sorry about the situation.
"The parents could sue the school for negligence because as long as your child is in school, then they are under the school's care," Joy Mdivo stated.
SEE ALSO: 4 Lessons Most Successful Entrepreneurs Learnt the Hard Way
"The incident which involved a Form 2 student at Nairobi School that was allegedly beaten by prefects is just one among many cases. No student has a right to beat up another. We are not raising beasts but children/students," another weighed in.
"I don't understand, is beating the only solution that the prefects can give. Pano inakuanga tu sawa (punishment is enough). now someone has to undergo surgery," Amondi commented.
Here are some more reactions on the matter: