In Kutus Town, Kerugoya County, a couple celebrated wedding using cow & donkey carts. They expressed their love and tied the knot in a simple wedding, which marveled area residents. Truly, the ability to simplify means to eliminate the unnecessary so that the necessary may speak.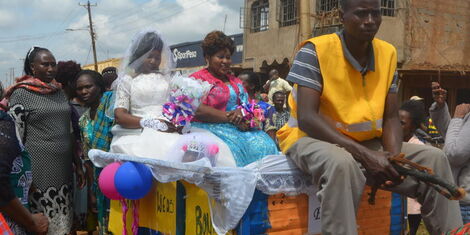 Most weddings are intended to be superfluous, and it's a dream day for many brides. Budgets tend to inflate, and details are polished to a perfect inch, with the intention of creating a meticulous day to remember.
However, for Boniface Kiarie and his bride, Mary Wawira, sleek rides were not in their plans. The couple opted for oxen and donkey carts instead.
SEE ALSO: Citizen TV Exposé on Bullying at Nairobi School Enrages Kenyans
Their convoy from Ndomba Village to Kutus Town was escorted by boda-boda riders who lined the three-kilometre stretch.
The unique spectacle left eager residents' mouth gaped, and craning their necks to catch a glimpse of the beautiful couple.
The bull that was at the front pulling the oxcart which carried the newlyweds was fitted with "shoes". It slowly tagged along in its gleaming footwear, much to the amusement of many.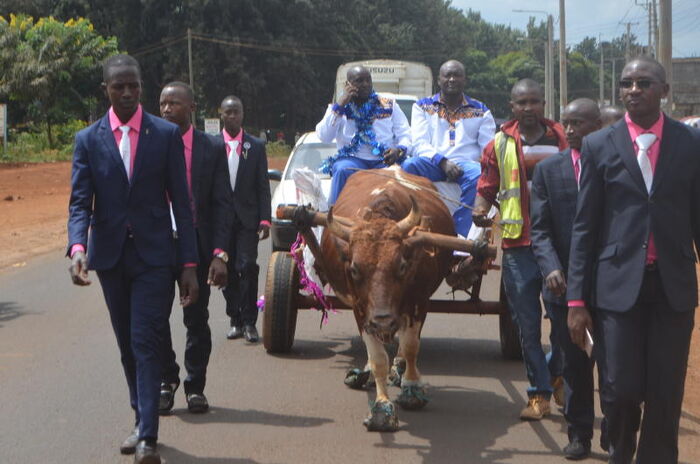 The carts were decorated in flashy colours befitting the grand event. Kiarie, who is the manager of Leisure Hotels in Kutus, explained that he chose to use the carts in order to cut on costs, given the hard economic times.
"Both carts cost Ksh 3,000. I also wanted to show those who splash millions on lavish weddings, only to start regretting after the guests have left, that a simple one is still good enough," Kiarie narrated.
The couple's convoy caused a stir as it joined the main Kutus-Kagio Road while heading towards the local Full Gospel Church, where the marriage was solemnised.
SEE ALSO: Chips, Pizza Among Foods Contributing to Low Sperm Count
Groomsmen who were dressed in navy blue suits and pink shirts walked on either side of the carts, unbothered by the attention the spectacle was drawing.
A reception was later held at the same church grounds, where guests indulged in sumptuous dishes while toasting to the newlyweds.