A 17-minute Citizen TV feature titled 'Defiled in Church' about sex-crazed priests sparks outrage among Kenyans. A section of Kenyans who condemned the pedophiles disguised as church priests.
The feature, done by investigative reporter Purity Mwambia has emitted feelings of pity and disgust among netizens after exposing priests, who are said to have defiled children in the churches.
SEE ALSO: Waititu & Nyoro Hold Traditional Weddings
"The state of this country breaks my heart and feels me with rage at the same time," Hamudi commented.
"What is more hurting is how common this similar story is almost everywhere. The women who experienced this when they were just young and received no justice. The abuse this causes on a physical, emotional, sexual level!! Who counsels them afterward?"Alexandra wondered.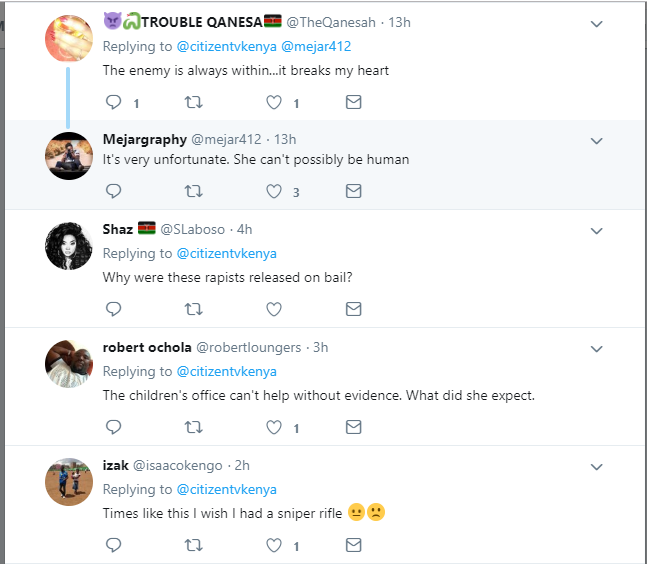 "One of the painful stories of the year 2019. That madam Christine is an accomplice of the "eating kasisi". How did she qualify to work in such an office," Lisa Shad weighed in.
SEE ALSO: Husband Leaves Suicide Note After Killing Wife
In one incident, an orphan, Mary(not her real name), narrated that she had gone to St Teresa Kariobangi church alongside other children to prepare for Sunday mass, when she fell asleep and was defiled by the church father known as Sambili.
"When I woke up, I asked the father what he was doing to me, he took his hand and covered my mouth," she narrated.
It was the second time Mary had been defiled by the same father.
When Mary's grandmother reported the incident at Korogocho LVCT Health Center, she was asked to tell Mary to go get defiled one more time before they could act.
According to the hospital attendant, she needed to have samples of her assailant.
The suspect was however arrested after her grandmother was advised to report the matter to the police.
SEE ALSO: MCA Admits They Earn Salaries to Do Nothing
In another incident, a bishop, Moses Otunga was accused of repeatedly defiling a 12-year-old girl until he broke her spinal cord.
"He told her to sleep at the guest house and when she did, the bishop took her to our bedroom and defiled her," the bishop's wife narrated.
The feature also exposed two more bizarre incidences of victims who have been raped by church leaders, with the report adding that more than 30 cases of defilement involving religious leaders, have been reported in the last few months.