Nairobi Governor Mike Sonko presents his HIV results in court documents. He has finally released a document showing his actual HIV status.
Court documents that the governor filed demanding damages from The Star newspaper showed that he had never contracted the HIV virus.
The documents involve results from both the both Nairobi Hospital and Nairobi West hospital.
SEE ALSO: Kenyans share unemployment experiences
On June 7, The Star published a detailed report that depicted that Sonko had been released from prison before his term was up simply because a HIV report showed he had tested positive for the virus.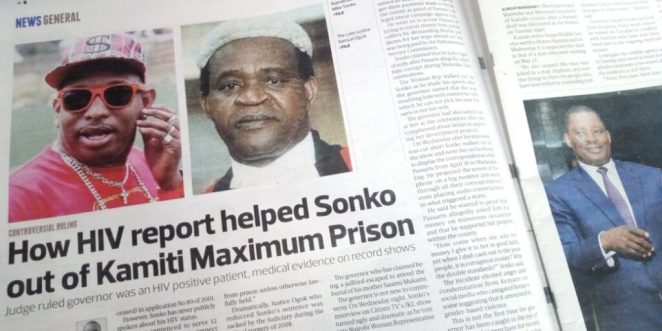 Through the article titled "How HIV report helped Sonko out of Kamiti maximum prison" the paper backed up its claims explaining that their evidence was based on a court ruling.
Through lawyer Cecil Miller, Sonko, however, argued that the news outlet flagrantly violated  journalistic ethics and exposed him to public ridicule.
Miller argued that the story painted him as an immoral person who was suffering from AIDS.
"I am an escaped convicted criminal and should it be trusted by any right-thinking members of the public and particularly my constituents who have elected me as the Governor
"The plaintif has suffered enormus loss and his reputation, integrity, dignity, amongst right-thinking members of the society, his colleagues and superiors has severely diminished and/or eroded," read the court documents in part.
SEE ALSO: Actor and Politician Gives Life to Christ
He further accused the media outlet of running with the story without verifying knowing that the profit would outweigh the damages claim by far in case he sought legal action.
"By reason of Radio Africa's actions, I have suffered enormous loss and my reputation, integrity, dignity amongst right-thinking members of society, my colleagues and superiors have severely diminished.
"The defendants are busybodies motivated by mala fides, cheap publicity and propaganda, personal prejudice and bias, misplaced vengeance, personal vendetta and unbridled greed to sell themselves which cannot sustain their attempts to practice competitive journalism," continued the statement.
SEE ALSO: Sonko Exposes Spies Using Drones to Monitor His House
He is seeking general damages for libel and slander.